NORTH TORONTO SKI CLUB
| | | |
| --- | --- | --- |
| | | |
| Downhill Ski | Cross Country Ski | Snowboard |
Traveling Ski Club - Located in the Heart of the City!
We live in and around the GTA and love to ski and snowboard! Click here for more information
---
Club News (week of November 16, 2009)
---
General Social this Thursday, November 19th – it's Equipment Expo!
Read here for more details.
---
NEW MEMBERS - Circle this Date: Wednesday, December 9th
Read here for more details.
---
Time is running out to get your "Before the Après: Holiday Wonderland" tickets.
Experience the most unique of holiday parties! Read here for more details.
---
Charters Updates: Trip Sign-Up Deadlines are FAST approaching!
Read here for more details.
---
Wasn't that a Monster Party!
If you weren't at the Halloween Party – here's what you missed! Read here for more details.
---
NTSC's MEMBERSHIP FOR THE 2009-2010 SEASON IS NOW SOLD OUT
Consider coming out as a Guest. Read here for more details.
---
Reminder: Membership Section of Web Site unavailable until late November/early December
The membership section is currently being upgraded and is unavailable. Here's who to contact in the interim about changes to your information or e-mail address. Read here for more details.
---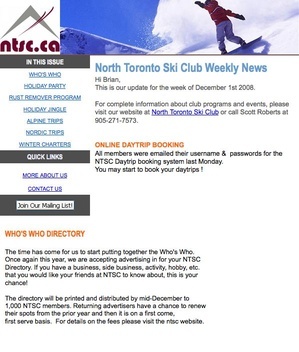 What's Happening at NTSC?
---
Club News (Details)
---
GENERAL SOCIALS: EQUIPMENT EXPO COMING NOV 19th!
Don't miss Equipment Expo this Thursday Nov 19th at Whistler's, where clothing, outdoor activity and ski shop retailers and equipment reps will join us for the evening to show off what's new for the season and answer your questions about equipment, boots or the latest on-hill or trail fashions.
Whistler's, located at 995 Broadview, is accessible by TTC from the Broadview subway station. Tel: 416-421-1344
Guests are always welcome.
The fun starts at 7:00 but come after work for some great grub.
---
New Members Mix'n Mingle and Orientation Session, Wednesday, December 9th
Many of you may have joined the club without knowing anybody. Well, this is your opportunity to get out and meet your fellow new members!
Plus, you probably have a bunch of questions: how to book and pay for day trips, what to expect on a typical day trip, how to know which bus to get on, how to find the lessons, what to wear on the bus in the morning and what to expect on an Après trip.
The answers to these and many more questions will all be covered at the New Member Mix 'n mingle and Orientation session taking place at Whistler's Restaurant on Wednesday, December 9th starting at 6:00 pm.
So, circle that date and stay tuned for more details in the weeks ahead.
---
Special Socials:
Before the Après: Holiday Wonderland Holiday Party
Reserve your spot for the most unique holiday party you'll attend all year.
Toast marshmallows over an open fire.
Cozy up under a warm blanket or dance under the stars.
Sip and mulled wine and hot toddy.
And more!!
The annual NTSC holiday party will be held at the Drake Hotel's Sky Yard. Open year-round, Drake's much loved and often celebrated Sky Yard rooftop patio is a must-see destination. A mix of comfy day beds and pillow-laden banquettes line the open space where good conversation is always percolating as eclectic films flicker under the night sky. The Sky Yard is always lively, warm and welcoming.
Date: Friday, November 27, 2009
Time: 8pm to late!
Cost: Members: $50 and Guests $60 gets you a menu prepared specially for NTSC, plus a DJ and dancing.
Attire suggestions:
Let's dress up a bit, but here's some advice:
Ladies, avoid open toed shoes and bring a shawl for some extra warmth.
Guys, a cozy sweater with smart pants will do the trick!
HOW TO GET TICKETS
Pick them up at this Thursday's General Social. We accept cash, cheque and credit card.
If you can't make it to the social, contact specialsocials@northtorontoskiclub.com to order the tickets and arrange to mail a cheque, payable to North Toronto Ski Club, to:
Special Socials
North Toronto Ski Club
106-214 Merton Street
Toronto, Ontario
M4S 1A6
You can also arrange to pay by credit card.
---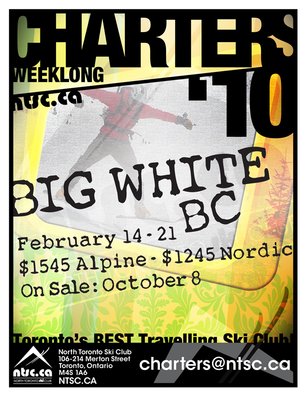 Charters Update: Trip Sign-Up Deadlines
November 19 is your last chance to sign up for:

Bonjour 2010! – Quebec City
Your trip leader is planning great activities like a Day Trip to Le Massif with a gourmet lunch and skiing with Olympian Jean Luc Brassard! The New Year's Eve Party will be something a little different – a night on the town capped off with a private reservation at one of the most happening spots next door to our hotel!
December 3 is your last chance to sign up for:

Big White (which leaves only Sunpeaks, as the other weeklongs are sold out!)
Big White also includes the chance to ski Silver Star on Tuesday and Thursday with no extra lift ticket charge – it's around $40 for the return shuttle.

The Party Trip – Bristol NY
The following trips are SOLD OUT:
Keener - Tremblant
Triple Threat - Eastern Townships
Please address any questions to charters@northtorontoskiclub.com
---
Wasn't that a Monster Party!
Close to 100 ghouls, goblins, creative dressers and partiers made it out to this year's Halloween Party at Rockie Raccon's. First Prize (2 tickets to the Christmas Party) for best costume went to Rachel Watson (dressed as Fiona from Shrek). Second prize (1 ticket pass for a day trip in Ontario) went to Stuart Little (dressed as Trenchcoat man).
They say a picture is worth a thousand words – so here's a few thousand words' worth.
---